Angel The Dreamgirl - Seduced By The Hot Airbnb Host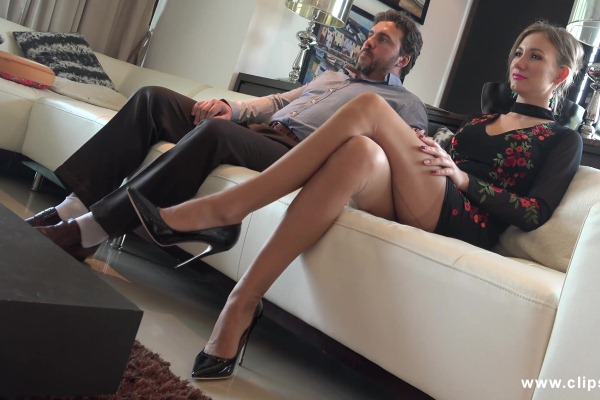 The house guest has just arrived in to the city this morning. He arranged to stay with a host via Airbnb, this host has amazing reviews! The host said she'd be at home cleaning when he arrives.
The guest is walking up the driveway and see's a woman cleaning and doing some garden work. As he gets closer she looks up, stops working and comes up to meet the guest. She's wearing dirty clothes from all the cleaning, they don't fit particularly well, she has very little make up, has dirt stains on her face, and her hair is tied back or covered up, to avoid the hair getting dirty. She looks plain and unremarkable!
She says hi and welcomes him to her home and shakes his hand. She looks at him with a sexy smile and a flirtatious expression. "Let me show you around!" she says. The next part of the clip can be just you showing him around, we don't have to hear the conversation. The guest will look very uninterested. At the end of showing him around she asks "Do you have any questions?" he says no, again looking very uninterested. She says "OK. By the way, my husband won't be back till late and I'll be out with friends, you'll have the house to yourself tonight". He says ok, he says hes going to have a shower and the go out. "No problem" she says, "I'm going out now, maybe I see you tomorrow." He says ok and then he goes to his room. A smile comes across the hosts face, her husband is out of town and won't be back till after midnight, but she isn't really going out with friends, she has other plans for her guest….
It's night time, and the guest has come back to the house. He can see a light on inside the house which is surprising as he expected to be on his own. As he opens the door he sees the host sitting down in front of the TV, she turns to him and says hello. He's stunned, she's beautiful (as per usual) ! She's got a short tight dress on (the one in the witches spell video), tan pantyhose and high heel shoes (black high heels 1950 vintage video), her hair is made up nicely and she's wearing make-up.
She looks glamourous and sexy, the guest is surprised and aroused by this. She asks how his day was, he said it was good. He asks how her night out with her friends was, she looks a bit confused at first and then quickly remembers. "Oh my night out with my friends, it got cancelled" she says very unconvincing. The guest is about to walk to his room when she says "Why don't you join me?", pointing to the sofa. He does, now they're both watching TV. After 10 seconds or so, she takes off one of her high heels and starts massaging her foot as genuinely it hurts a little. The guest notices and stares for a couple of seconds. The host notices this and smiles a little and puts the shoe back on. She says she's going to get a drink and if he'd like one. She gets up and goes to the kitchen.
He can't keep his eyes off her, camera shots of your amazing body would be great, especially one of you bending over to pick something up. He's got an erection now. She comes back with the drinks and sits down next to him, purposely a little closer, legs crossed towards him. She takes the shoe off again massaging it pretending it's hurting to see if he looks again, he does. Now she's guessing he has a thing for feet.
"I'm just going to get changed. I'll be back." When she's back she's wearing the tightest jeans possible (maybe the ones in Cum in my heels). And still wearing those black high heels. She sits next to him. After a few seconds she decides to takes her shoes off, lift her legs up and lie on the sofa, feet almost resting on the side of his legs. He looks down at them, then looks up and catches her looking at him smiling. He looks away quickly. "Where is your husband tonight?" he asks. She tells him that her husband is at work and won't be back till midnight. "He's always working, every day I'm here on my own, I get very lonely. That's why I do Airbnb, I like to meet new people". She starts rubbing his leg teasingly with her foot. "Do you know why I have the best reviews?" she asks him. She then starts rubbing her feet on his crotch. "I know how to look after my guests" she says. He's getting really hard.
"I know what you want. Let me take care of you". She starts rubbing even more and is about to undo his pants. Even though he's aroused and enjoying it, he's a bit uncomfortable, knowing she has a husband who can come back any second
"Sorry, but I need to get up early. I'm going to bed. Good night!" he says. She pouts her lips in disappointment. But she hasn't given up yet
The next scene the guest is getting out of a cold shower. As he walks into the bedroom, the host is waiting there, sitting on his bed, legs crossed, but no clothes on except the pantyhose and the shoes.
"Just checking if everything is ok with your room?"
The guy responds nervously and says everything is fine.
"Good. You know, there's one thing I haven't shown you yet". With that you open your legs, and then that's when he notices that there's no crotch in the pantyhose, your pussy is on display. He's speechless.
"Come here?" you say to him, maybe gesture with your finger at the same time. He comes and stands next to you. "Don't worry. I do this with all my guests". You start playing with yourself and take his towel off. You then give him a blowjob. After a while you ask him to lick your pussy. Once you're satisfied, you get up, go against a wall and bend over with your heels on. I'd like at this point a shot of you speaking in to the camera and saying "Now fuck me, hard!". At this point the camera can be side on showing you getting fucked. After this it's up to you what positions and how many you guys would like to do. Only thing I would like to see is a footjob included and once he's ready for you to handjob him in your shoe, with some of the cum going inside there.
A few minutes later you've changed back in to your clothes, and you hear your husband come back. You put your shoe on with the cum in there and smile at the guest.
Video: MPEG-4 
Quality: UltraHD/4K
Resolution: 3840x2160 
File Size: 1.67 GB
Duration: 00:25:27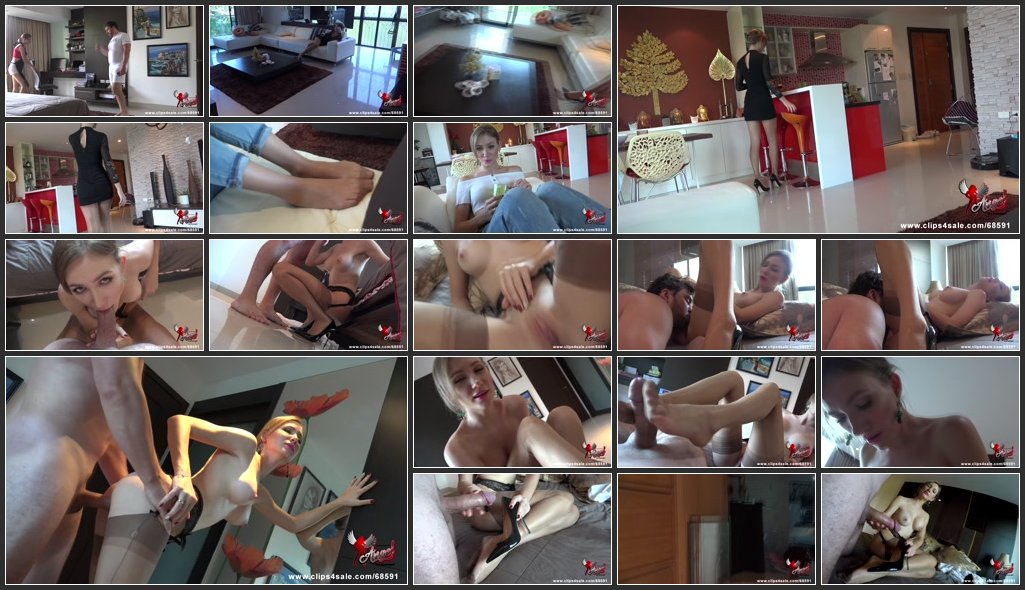 DOWNLOAD:
Related